Daleel Mentorship Programme
12 November 2016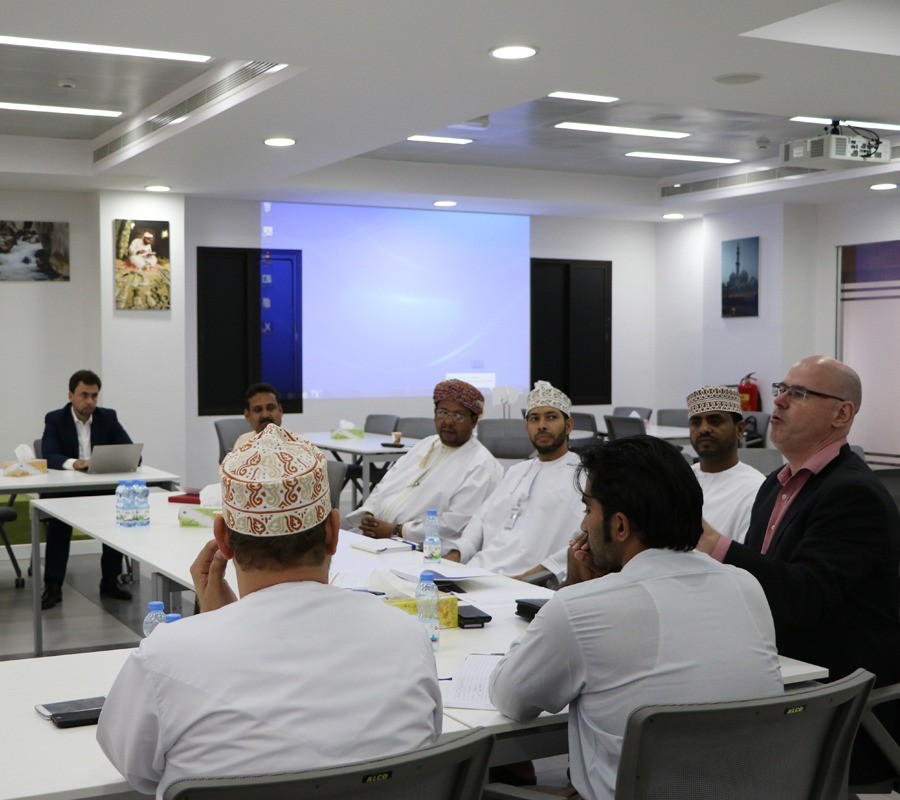 In line with the Government direction of supporting Local Business & SMEs development with the aim of enriching the Omani economy and diversifying the means of contribution to Oman's GDP, Daleel has kept a close monitor on the requirements of the government and has been an avid participated in various forums such as the Oman Business Opportunities forum organized by Oman Chamber of Commerce and the SME Symposium 2015 Organized by the Ministry of Commerce & Industry (MOCI) and the Public Authority of SME Development (Riyadah). In concordance with it's In Country Value Policy and the commitment to support local businesses through alignment of business needs with the development of local suppliers; Daleel has always given consideration to given priority to local business in their supply chain processes.
Since the initial phases of the In Country Value initiatives Daleel has committed to supporting local businesses identification and accessibility to be part of their supply chain business through full commitment, implementation and participation on the Joint Supplier Registration System (JSRS), a platform spearheaded by the Ministry of Oil and Gas aimed at being a unified registration system for Oil & Gas approved suppliers. This allows local business and SMEs to be visible to potential client organizations that may require to source and procure their services, and enables such organizations to invite them to bid and request quotes in a straightforward and transparent manner.
This year Daleel, along with other operators, is boarding on the Vendor Development Programme (VDP) initiative under the guidance of the Ministry of Oil & Gas. The Vendor Development Programme aims at developing local companies & SMEs technically and commercially. This will be done through choosing specific technical scopes or services that have scarcity of Local Omani Companies and shortlisting Local companies with minimum 51% Omani Shares to qualify and bid for this scope which will be given as a vendor development programme. The companies will be trailed and a company will be awarded and taken through a development journey during the contract to upskill it and increase its levels of technical and commercial competency in order to reach a level where it can compete with international companies. Such development is aimed at creating sustainable organizations and a self-sufficient economy that will help in turn the Omani Market flourish.
Earlier this year, Daleel Petroleum took an initiative to develop Omani SMEs in the Oil and Gas industry. This objective is to upgrade the capabilities of Omani SME owners through the implementation of the mentorship programme. It mainly offers the mentees with local expertise and professional knowledge to build an interactive environment that will achieve the set objectives.
All ten Omani SMEs enrolled in the mentoring programme are active in the Oil and Gas industry. Accordingly, and in line with the mentorship plan, the In Country Value Team at Daleel Petroleum organized a workshop to introduce the online Joint Supplier Registration System (JSRS). This is considered one of the essential areas when engaging in business with the Oil and Gas industry in Oman. The objective is to ensure all participants take full advantage of the benefits offered by JSRS. This includes awareness on mechanics of the registration process by running an online simulation exercise.
The programme is expected to continue until the end of this year conducting a series of mentoring meetings and knowledge sessions to equip the mentees with all basic needs to develop as a business owner operating in the industry.
The companies registered in the mentorship programme are:
· Global Chrome Company is 100 percent Omani, and aims to advance the domestic value-added to the country in the field of oil, gas and petrochemicals through creating job and training opportunities for Omanis.
· Union Integrated Company LLC, (UIC) is newly developed and 100% owned by young Omani talented professionals with vast experience in oilfield chemicals. UIC is a supplier and distributor in Industrial chemical. The logistic services and wire line tools are under the professionalism of a sister company AlSamad AlWataniya Petroleum Services which offers excellent services and vast experience in oilfield industry.
· Victoria Lake Trading & Cont. Ent. L.L.C (VL) is an Oman based company established in 2012. It aims to provide better service, quality work and assists different related companies to achieve their aims. VL is based in Muscat, Sultanate of Oman focuses on achieving maximum customer satisfaction and trust, while seeking ways to continually improve its services. VL takes immense pride in being called a "24x7" solution provider.
· High Speed Trading & Contracting LLC is an Omani company established in 1999. The company mainly provides services and supplies to the Oil & Gas industry.
· AMOG SAFETY SERVICE COMPANY was established in 2008. AMOG is specialized in H2S contingency plans and breathing air support system, HSE, PPE & firefighting Equipment.
· Ibra Energy Services is a trading company located in Oman Specialized in Drilling products and equipment.
· Majan Petroleum Services is firmly dedicated to provide the highest quality products and services to lie within scope of the mechanical, electrical and plumbing activities.
· Innovision is a professionally managed multi- dimensional Omani Engineering Consultancy providing Engineering Service and Project Management Services to the Oil and Gas, Power, Water and Industrial sectors in the Sultanate of Oman. The company has professionals with extensive experience and tuned to the practices and demands of the industry.
· Al Dallah Al Arabia Trad & Cont. is a local community company mainly intended to provide services for Oil Field Supply, Small to medium project management, Mass transportation, lifting equipment and heavy lifts management.
· Reeman Oil & Gas Specialized in offering Onshore Slickline Services to Oil and Gas companies.