Qurum Enterprise Oil & Gas Services LLC, A New Business Partner for Daleel Petroleum
22 August 2017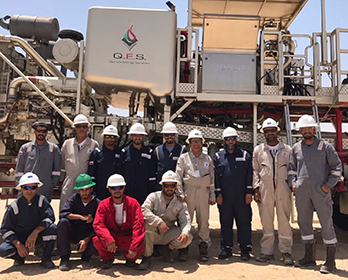 Daleel Petroleum expands its business relations to include another emerging Omani company by inking a service agreement. This reflects a responsible gesture from Daleel in supporting Omani businesses that are newly setting their path in the oil & gas industry. This direction comes in compliance with In-Country Value approaches as well as encouraging new companies to establish their existence in this sector.
Daleel Petroleum signed a service agreement with Qurum Enterprise (QES) to provide for cementing services. This is expected to enable a local company to compete with international companies providing similar types of services. The agreement goes in line with Daleel strategies that support local companies committed to providing quality services in a timely manner and without compromising any industry standards that might cause possible hazards to safety or to the business.
On this occasion, Engineer Saif Al Qassabi, Sr. Well Engineering Manager at Daleel Petroleum stated: "Extending support to local companies such as Qurum Enterprises is part of a national drive that we sincerely support."
Ali AL-Yahyaai Chief Operating Officer at Qurum Enterprise Oil & Gas said: "Daleel has a unique program where they focus on the specific needs of the SME and jointly we develop a tailored program aimed specifically at enhancing our capabilities. The aim is to bolster the competitive edge of QES and our ability to increase market share and hence create jobs for Omanis".
Daleel Petroleum LLC is one of the leading oil producing company in the Sultanate of Oman. It is a joint venture registered in Oman between Mezoon Petrogas SAOC (Subsidiary of MB Holding and Mezoon Petrogas BVI (Subsidiary of China National Petroleum Corporation). The company was formed during the second half of 2002.
Daleel Petroleum LLC is involved in exploration; appraisal and production of hydrocarbon reserves located onshore Oman approximately 450 km North West of Muscat. Daleel Petroleum LLC aims to maximise the development of oil and gas reserves in a responsible and cost effective manner for the social and economic benefit of the people of Oman, the shareholders and employees of the company