Safety: Zero Motor Vehicle Incident (MVI) & Free Lost Time Injury (LTI)
21 April 2021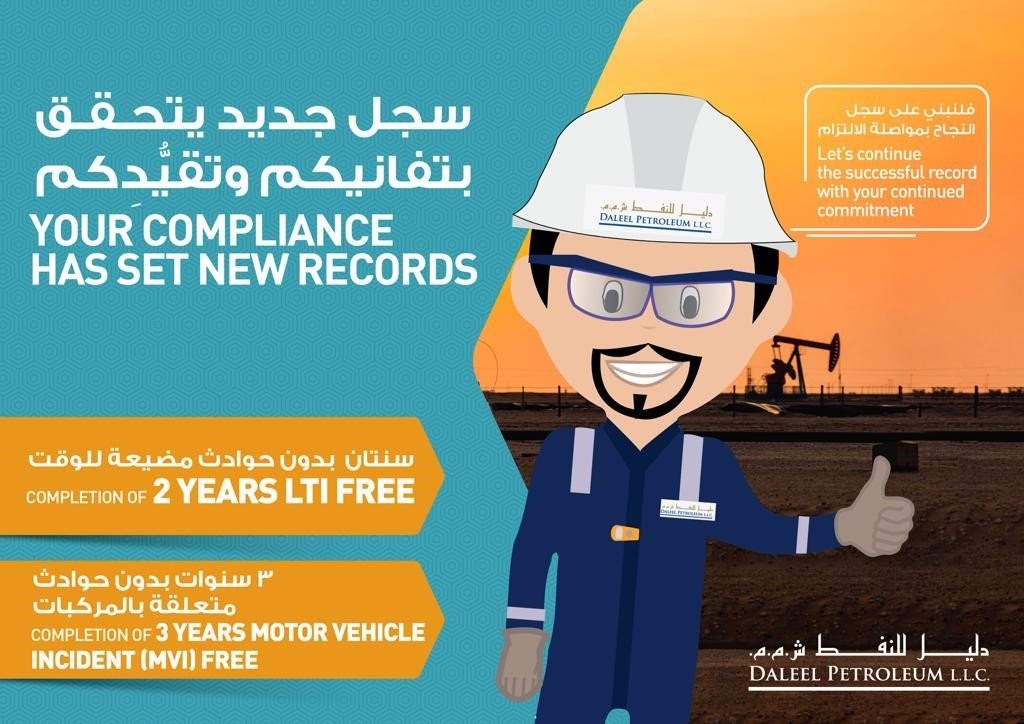 The safety of people, environment and assets are considered one of the prime values to operate in energy sector to succeed in an efficient and effective manner. Daleel is embracing its core value while operating through ongoing learning, systems and procedures development to for a safe and sustainable journey.
With sincere dedication, commitment and professionalism in implementing road safety rules and related systems, Daleel managed to add a remarkable milestone to the safety track record. This eagerness has resulted in a Zero Motor Vehicle Incident (MVI) with a contribution from Daleel employees and its business partners (contractors and/or sub-contractors (during the last 3 years (2019-19th March 2021).
Additionally, on 9th April 2021, Daleel completed 2 years without Lost Time Injury (LTI) with an accumulative count of 730 days. This compliance demonstrated responsibility of employees and business partners (contractors) which is highly appreciated while adding value to the company successful track record.
Quality, Health, Safety, Security & Environment (QHSSE) Department works effectively to ensure Daleel meets Integrated Management System (IMS) Standards in compliance with ISO 9001:2015, Quality Management System Requirements, ISO 14001:2015 Environmental Management System Requirements and ISO 45001:2018 Occupational Health and Safety (OH&S) Management System Requirements. Moreover, QHSSE drive helps to bring OH&S Risks and Environmental impacts to an adequate level by continuously updating documentation and legal requirements, training, while maintaining high standards.