Virtually: Health, Safety, Security and Environment (QHSSE) Awareness Day
31 May 2021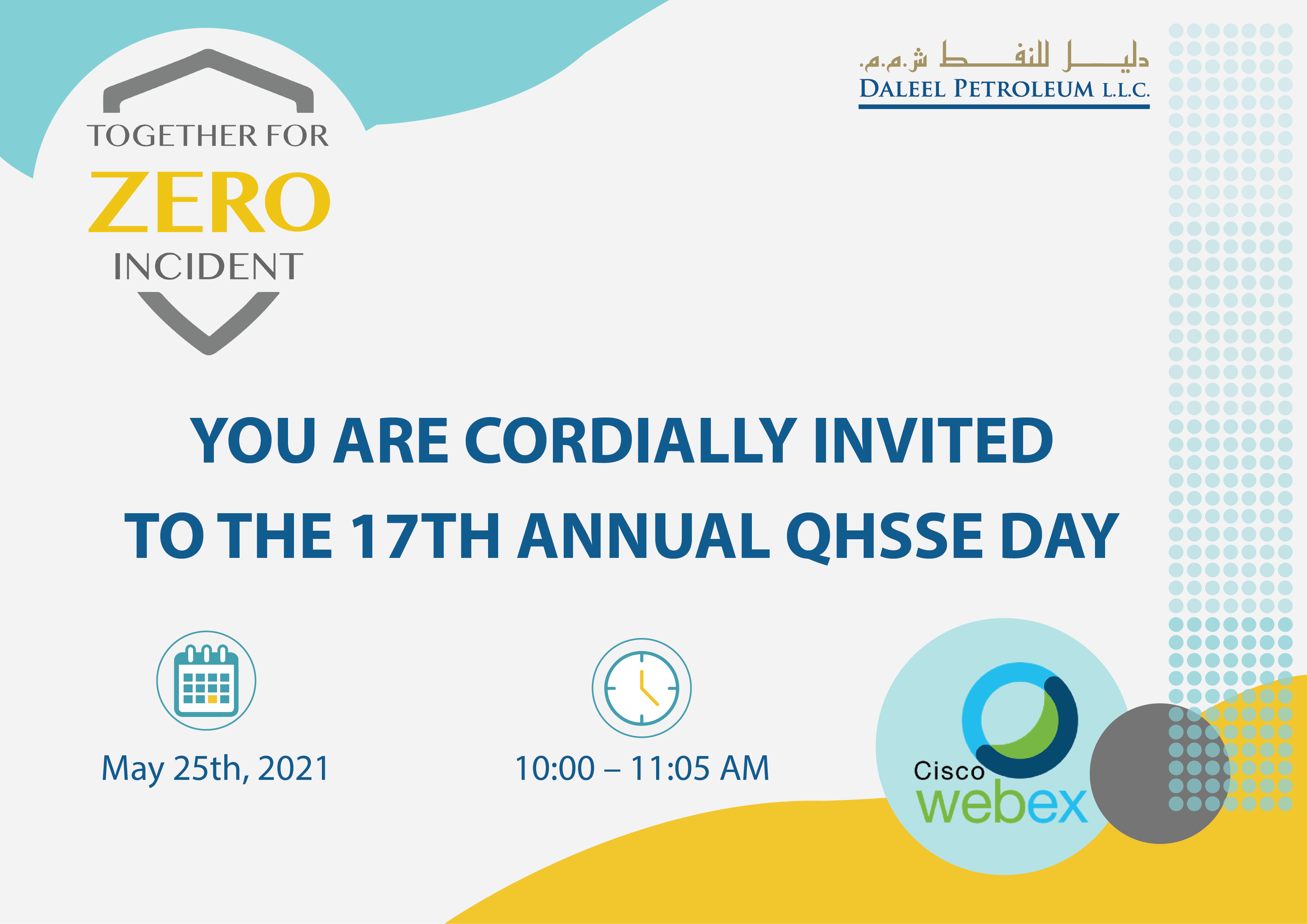 Under the theme "Together for Zero Incident", Daleel Petroleum held its Annual Health, Safety, Security and Environment (QHSSE) Awareness Day virtually. The awareness day was conducted to highlight the company's commitment to existing policies and standards as well as to ensure compliance with health and safety legislations. The day was planned with the theme to promote a QHSSE culture by embracing it across Daleel employees and its business partners.
The event started with a key message delivered by Mr. Dawood Al Badaai, QHSSE Snr Manager thanking all employees and business partners for their efforts during COVID-19 and recognizing all the efforts and compliance to safety procedures and policies by Daleel and its contractors. Followed by Mohammed Al Abri, Occupational Health Adviser on the latest COVID-19 preventive measures and how it's managed in Daleel Field. As an annual appreciation act, Daleel awarded Daleel contractors' champions for their safety records for the last year.
Recently, Daleel has managed to maintain a Zero Motor Vehicle Incident (MVI) with a contribution from Daleel employees and its business partners (contractors and/or sub-contractors (during the last 3 years (2019-19th March 2021). Additionally, on 9th April 2021, Daleel completed 2 years without Lost Time Injury (LTI) with an accumulative count of 730 days. This compliance demonstrated responsibility of employees and business partners (contractors) which is highly appreciated while adding value to the company's successful track record.
(QHSSE) Department works effectively to ensure Daleel meets Integrated Management System (IMS) Standards in compliance with ISO 9001:2015, Quality Management System Requirements, ISO 14001:2015 Environmental Management System Requirements and ISO 45001:2018 Occupational Health and Safety (OH&S) Management System Requirements.